Weaponizing Anti-Semitism: IHRA and the End of the Palestine Exception
Apr 04, 2021 at 10:05 PM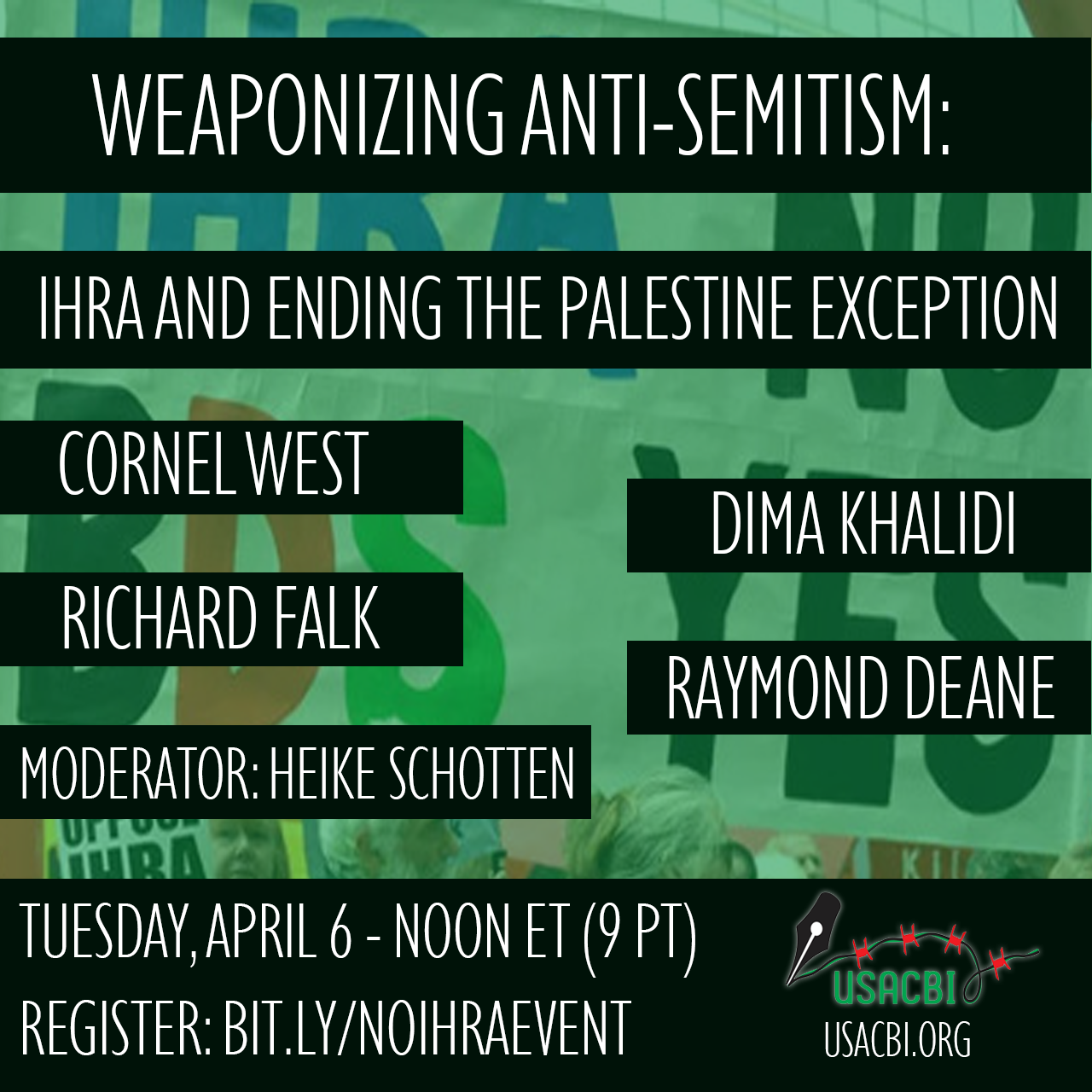 Tuesday, April 6
12 Noon Eastern/9 am Pacific
Register to join on Zoom: https://bit.ly/noihraevent
Facebook Live: https://facebook.com/usacbi
Join the US Campaign for the Academic and Cultural Boycott of Israel for an informative webinar on the International Holocaust Remembrance Alliance (IHRA) "working definition" of anti-Semitism and its use by pro-Israeli apartheid organizations to attempt to silence Palestinian and Palestine solidarity organizing on university campuses and in the community. Discuss the implications of the weaponization of anti-Semitism and the "Palestine exception" to freedom of expression with a distinguished panel of lawyers, academics and activists.
Speakers:
CORNEL WEST
DIMA KHALIDI
RAYMOND DEANE
RICHARD FALK
Moderator: HEIKE SCHOTTEN
https://usacbi.org/email/sendy/w/baEbnrVgqZFvbRwACWQrIA/Z3rfkdOF892wgnE763unFAImYg/cKtqmobXBSE2i2v763PjLA2Q
Read more...
COVID-19 vaccinations are proof of Israel's medical apartheid

Mar 23, 2021 at 12:00 AM

The coronavirus does not stop at checkpoints. As an occupier, Israel must provide medical supplies to Palestinians and adopt measures to combat the disease there.

In Israel, more than five million people, or more than half the population, have been vaccinated against COVID-19 and case numbers are dropping.

Just a few kilometres away in Palestine, COVID cases are rising, all of its estimated 200 ventilators are in use, and the Palestinian Authority announced it can no longer put additional COVID patients on ventilators.

Why the disparity? Because Israel has refused to provide vaccines for the more than four million Palestinians living under its military rule.

In short, this is medical apartheid where one group gets the privilege of being vaccinated while the other suffers under the weight of disease, forcing doctors to make decisions about who lives and who dies.

We are Israel's largest human rights group – and we are calling this apartheid

Jan 12, 2021 at 12:00 AM

...Although there is demographic parity between the two peoples living here, life is managed so that only one half enjoy the vast majority of political power, land resources, rights, freedoms and protections. It is quite a feat to maintain such disfranchisement. Even more so, to successfully market it as a democracy (inside the "green line" – the 1949 armistice line), one to which a temporary occupation is attached. In fact, one government rules everyone and everything between the river and the sea, following the same organising principle everywhere under its control, working to advance and perpetuate the supremacy of one group of people – Jews – over another – Palestinians. This is apartheid....

Read full article: https://www.theguardian.com/commentisfree/2021/jan/12/israel-largest-human-rights-group-apartheid
<< Start
< Previous
1
2
Next >
End >>
Results 1 - 6 of 9