Canada and the Middle East
| | | | |
| --- | --- | --- | --- |
| Canada's Silence On Illegal Israeli Settlements Is Acquiescence | | | |
Sep 15, 2016 at 06:30 PM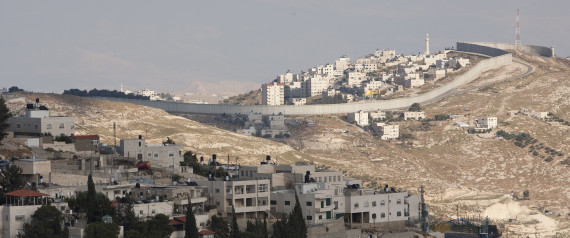 Last week, the world was informed of yet another expansion of Israeli "settlements" by the Netanyahu government. Israel announced plans for 285 new units in the West Bank, and the retroactive approval of 178 units that were built in the 1980s. Part of an ongoing series of announcements, Israel has now advanced plans for 1,700 new units since July 1.

The UN Mideast Envoy, Nicolay Mladenov, was incensed. "Israeli settlements in occupied territory have no legal validity and are an obstruction to achieving a comprehensive, just and lasting peace in the Middle East."

And the response from Canada and its federal political parties: silence.
| | | | |
| --- | --- | --- | --- |
| Why We Greens Still Push for Anti-Occupation Boycott, Divestment, Sanctions | | | |
Sep 13, 2016 at 12:00 AM
Members on Israel and Palestine: 'Green party values oblige us to stand with the oppressed.'
On August 7, 2016, Green Party of Canada members who attended the party's biannual convention in Ottawa voted overwhelmingly to support a limited use of boycott, divestment and sanctions against those sectors of Israel's economy and society that profit from Israel's occupation of Palestinian territory.
That occupation has caused incalculable suffering to the Palestinian people. As stated by the Nobel laureate Archbishop Desmond Tutu, the Palestinians' "humiliation is familiar to all black South Africans who were corralled and harassed and insulted and assaulted by the security forces of the apartheid government."
For decades, Israel's occupation has facilitated its construction of settlements in the West Bank. In 2004, the International Court of Justice determined that Israel's settlements and those parts of its separation wall that jut into occupied territory violate international law.
Canada's own government states that "Israeli settlements in the occupied territories are a violation of the Fourth Geneva Convention" and "constitute a serious obstacle to achieving a comprehensive, just and lasting peace."
| | | | |
| --- | --- | --- | --- |
| Opinion | The BDS motion and Canada's relationship with Israel | | | |
Mar 13, 2016 at 12:00 AM
"...Issues of free expression and speech aside (both are clearly violated by the government's stance), Canada's choice to be seen as a defender of all Israeli policies — good and bad — undermines a possible resolution to the conflict, while playing into the false extremist narratives that use Palestine as a primary recruiting tool.
It's time to question exactly what a decade of radical support for Israel has actually done for Canada, other than landing it near the top of ISIS's "hit list" and acquiring the supposed friendship of a country that has been the source of much regional instability...."
| | | | |
| --- | --- | --- | --- |
| Anti-Zionist group protests lectures by far-right UK politician | | | |
Mar 11, 2016 at 12:00 AM
Members of the anti-Fascist group Pegida Watch Canada held protests at events in Montreal and Toronto – the latter sponsored by the Jewish Defence League – that featured a far-right British politician who Pegida Watch says promotes the anti-Islam, anti-immigrant movement that's taking hold in the Western world.
On March 9, Act for Canada, a group that speaks out about the "clear and present dangers emerging from those who do not embrace Canada's values along with the threat of homegrown terrorism," organized a lecture at Ruby Foos restaurant in Montreal by Paul Weston, the leader of Pegida UK, an acronym in German for Patriotic Europeans Against the Islamization of the West.
On March 10, the Jewish Defence League (JDL) sponsored a lecture at the Toronto Zionist Centre by Weston and Lars Hedegaard, president of the Danish Free Press Society. It was titled "The threat of radical Islamic immigration and the erosion of our freedoms."
Scott Weinstein, a member of the anti-Zionist group Independent Jewish Voices (IJV)-Montreal's steering committee, said news about the Montreal protest, which attracted about 60 to 70 people, resulted in the event's cancellation.
| | | | |
| --- | --- | --- | --- |
| McGill undergraduates vote to support BDS movement | | | |
Feb 23, 2016 at 12:00 AM
On February 22, almost 900 students gathered in the Shatner building to participate in the Students' Society of McGill University (SSMU) Winter 2016 General Assembly (GA).
A motion in support of the Boycott, Divestment and Sanctions (BDS) movement passed with 58 per cent of the vote. A motion for an increase in Indigenous content at McGill and a motion regarding the procurement of products containing conflict minerals by SSMU also passed.
| | | | |
| --- | --- | --- | --- |
| Parliament votes to reject Israel boycott campaign | | | |
Feb 23, 2016 at 12:00 AM
Parliament has voted by a wide margin to condemn the growing international Boycott, Divestment and Sanctions campaign being waged against Israel for what is alleged to be the Jewish state's failure to accord equal rights to Arabs in Israel and the occupied Palestinian territories.
The motion, introduced by the Opposition Conservative Party, called for the House to "reject the Boycott, Divestment and Sanctions (BDS) movement, which promotes the demonization and delegitimization of the State of Israel," and the government to "condemn any and all attempts by Canadian organizations, groups or individuals to promote the BDS movement, both here at home and abroad."
The governing Liberals mostly supported the motion, making the final tally 229 in favour of condemning the BDS movement with 51 opposed. The NDP voted against the measure, not because it likes the BDS movement, Leader Tom Mulcair said, but because it doesn't like to see the stifling of free expression. Only the Bloc Québécois argued that the BDS campaign constitutes legitimate criticism of Israeli policies.
| | | | |
| --- | --- | --- | --- |
| 1800 University of Waterloo students call to sever ties with Israeli universities | | | |
Feb 02, 2016 at 12:00 AM
Thousands of University of Waterloo students participated last week in the first-ever referendum on UW's links to Israeli universities. The "sever ties" referendum campaign failed to gain a majority, but it provoked a lot of discussion including among students who had never heard about the Israeli/Palestinian conflict. Learn more…
| | | | |
| --- | --- | --- | --- |
| Liberals dodge NDP question on UNRWA | | | |
Feb 01, 2016 at 12:00 AM
On February 1st in Parliament, the NDP asked the right question about funding for Palestinian refugees. The new Liberal government dodged the question.

Ms. Hélène Laverdière (Laurier—Sainte-Marie, NDP):
Mr. Speaker, in 2013, the Conservative government completely cut off Canadian aid to the United Nations Relief and Works Agency for Palestine Refugees in the Near East.
This agency provides humanitarian aid to some of the most vulnerable people in the world. For example, it helps keep thousands of young Palestinians in school.
Will the minister restore Canadian aid to this relief agency or not?
Read more...
| | | | |
| --- | --- | --- | --- |
| Standing with Israel through fire and water and sunny ways | | | |
Jan 31, 2016 at 12:00 AM
This is what we look like at the United Nations General Assembly right now - one of a half dozen outliers of little red squares on the big screen voting NO on every single vote to do with Palestine. It's the same look we've had for over a decade - standing with Israel through fire and water and now sunny ways - in the yearly UN ritual of non-binding resolutions on a humanitarian disaster that inconveniently implicates Israel.
<< Start
< Previous
1
2
3
4
5
6
Next >
End >>
Results 35 - 51 of 92