The following are posted for everyone's information. Events sponsored by CanPalNet are marked with *.
| | | | |
| --- | --- | --- | --- |
| Weaponizing Anti-Semitism: IHRA and the End of the Palestine Exception | | | |
Apr 04, 2021 at 10:05 PM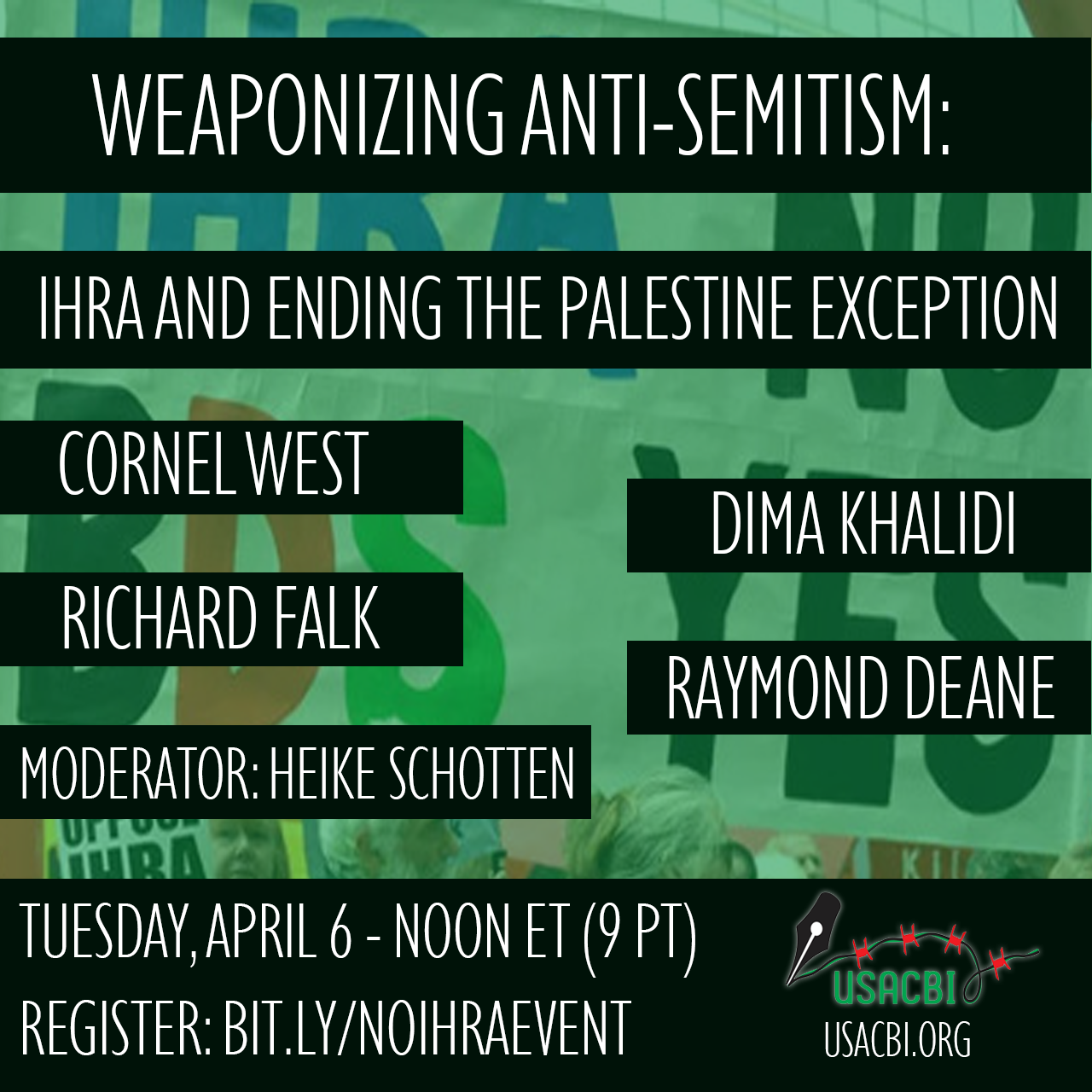 Tuesday, April 6
12 Noon Eastern/9 am Pacific
Register to join on Zoom: https://bit.ly/noihraevent
Facebook Live: https://facebook.com/usacbi
Join the US Campaign for the Academic and Cultural Boycott of Israel for an informative webinar on the International Holocaust Remembrance Alliance (IHRA) "working definition" of anti-Semitism and its use by pro-Israeli apartheid organizations to attempt to silence Palestinian and Palestine solidarity organizing on university campuses and in the community. Discuss the implications of the weaponization of anti-Semitism and the "Palestine exception" to freedom of expression with a distinguished panel of lawyers, academics and activists.
Speakers:
CORNEL WEST
DIMA KHALIDI
RAYMOND DEANE
RICHARD FALK
Moderator: HEIKE SCHOTTEN
https://usacbi.org/email/sendy/w/baEbnrVgqZFvbRwACWQrIA/Z3rfkdOF892wgnE763unFAImYg/cKtqmobXBSE2i2v763PjLA2Q
Read more...
| | | | |
| --- | --- | --- | --- |
| Al-Awda PRRC urges action to confront Israeli annexation: Join the Day of Rage July 1 | | | |
Jun 14, 2020 at 12:00 AM
Al-Awda, the Palestine Right to Return Coalition, calls upon all Palestinians and supporters of justice in Palestine in the United States and around the world to join in the global efforts for a Day of Rage on July 1st, 2020 to confront the U.S.-Israeli efforts to liquidate the Palestinian cause and people.
Join us to take action and organize demonstrations across the U.S. on and before July 1st – and pledge to protect the land from the impending annexation of the Jordan Valley and the Zionist application of sovereignty over illegal "Israeli" colonies in the occupied Palestinian West Bank.
Feb 02, 2007 at 02:43 AM
Vancouver Women in Black Vigils
Vancouver Women in Black stand in vigil the fourth Monday of each month, Robson St. side of the VAG from 5-6pm. All are welcome (men too!); please wear as much black as you can. Women in Black calls for
An end to violence, racism, and all forms of terrorism that harm innocent civilians.
An end to the Israeli occupation of the West Bank and Gaza and a just peace for all peoples in the region.
An end to all human rights abuses in the occupied territories
ONLY AN END TO THE OCCUPATION WILL BRING PEACE